Savory and garlicy, salty with a ZAP of sour vinegary tang…it's Philippine adobo!
Philippine chicken adobo is my ultimate comfort food. It reminds me of slow, rainy days at home with my mom and little brothers. Often, a pot of adobo would simmer away on the stove, its smell filling the whole house with comfort and safety.
For someone like me, who didn't grow up in the islands and isn't fluent in my mom's mother tongue, Filipino (Fil/Pilipino/Pinoy) food is a grounding connection to my heritage. It's the bridge that lets me nurture the bodies of those I love while paying homage to those who came before me.
Growing up, my mom would shoo me away when I would get in her way in trying to help cook, instead telling me "Ay jusko Anak! Ning, just stand there. You can watch." She's become much mellower through the years with my youngest brother, though. To my jealousy and amusement, they now fold lumpia rolls together for the Filipino food truck she works for. As for me, I still try to get my recipes as close as I can to hers while still making it my own. The hardest part is figuring out measurements as, like a lot of moms I've met who are Women of Color, she doesn't measure! Instead, everything is done by taste – as in, the food is good when YOU decide it's good.
A Dash of History
Philippine food was prepared by Malay settlers, spiced by the Chinese, stewed by the Spanish and hamburgerized by the Americans.

A popular local saying
Philippine Adobo is such a personal dish for a lot of people. Touted as the "unofficial dish of the Philippines," there is no one recipe. Each region of the islands has its own take, with even more variance found between families. Yet, each family swears theirs is the most authentic. In a way, it reminds me of how each family in India has their own recipe for curry depending on who your grandma was.
Before the age of refrigeration in the hot, tropical islands of the Philippines, food was preserved for centuries through a process of cooking the food immersed in vinegar and salt. The salt was later replaced by soy sauce through contact with Chinese traders. The acid in the vinegar and high salt content of soy sauce deters the growth of bacteria in meat.
Not to be confused with spicy Spanish-style adobo, Philippine adobo uses ingredients native to Southeast Asia even though the name that ultimately stuck to the dish was one given by 16th century Spanish colonizers. Philippine adobo, simplified, is soy sauce, vinegar, garlic, black pepper, and bay leaves.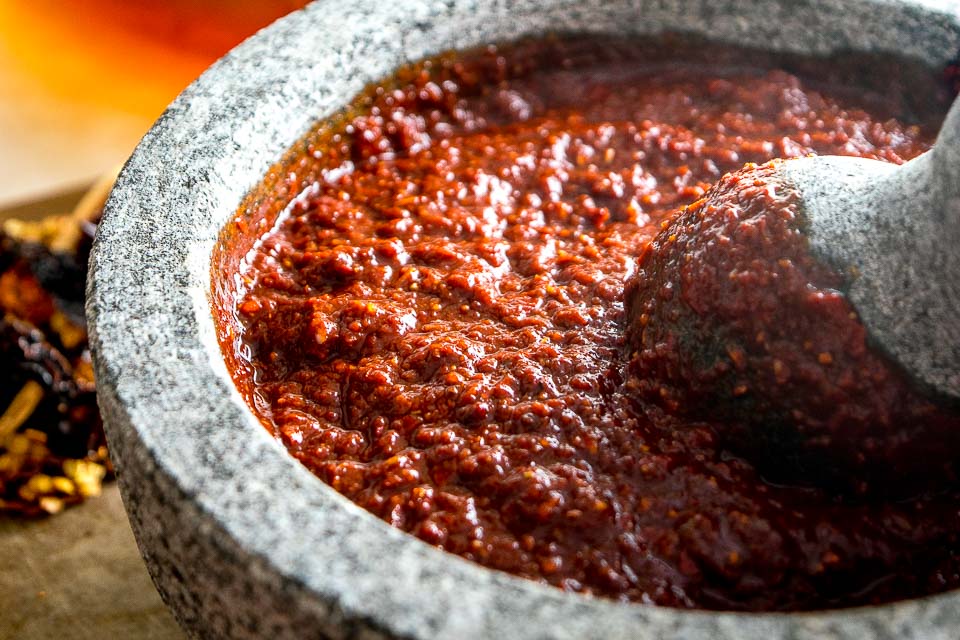 Spanish and Latin American adobo tends to refer to a pickling sauce made with spicy red chilies, olive oil, vinegar, garlic, thyme, bay leaf, oregano, paprika and salt. Furthermore, in the Caribbean (Puerto Rico and the Dominican Republic), adobo is usually referred to as a dry rub of garlic, onion, oregano, salt and pepper. The only similarities between the dishes seem to be the use of garlic and salt or vinegar. It's easy to see, then, how confusing talking about adobo can be without being specific about which region your recipe is coming from. While each version calls their dishes adobo, each has widely differing tastes.
Among various recipes of this particular dish, one can find all sorts of swaps and substitutions. Some people like to use different meat (pork belly, chicken, buffalo, goat), while others might use various types of seafood (shrimp, fish, etc) or vegetables in their adobo. Other more interesting additions I've seen include tumeric, ginger, calamansi limes, red wine, or stevia.
I've even read that Chinese-Filipinos tend to add rock sugar, 1-2 star anise, and coconut milk to tone down the strong vinegar and soy flavor, and don't get me started about all the variations on cane vinegar!
I like to keep my recipe rather simple.
A quick word of warning – the heavy use of vinegar and soy sauce in this dish isn't a common flavor profile in the West. In my experience, if you aren't much of a fan of vinegar, you probably won't enjoy Philippine Adobo.
Chicken Adobo Recipe
*Ingredients:
For the marinade

1 c. chicken stock or water
3/4 c. soy sauce
1/2 c. white or cane vinegar

5 cloves of garlic, minced
2 tsp black pepper or peppercorns
2 lemons, juiced
4 lb. bone-in, skin-on chicken thighs and/or legs
2 TB. sesame or olive oil
4 bay leaves
1 white or yellow onion, peeled and sliced
3 big russet potatoes chopped or 6 smaller golden potatoes quartered
2 c. de-stemmed and halved green beans or a 12 oz steamable bag (saves so much time!!)
Cooked rice to serve the dish on (I am currently obsessed with Nishiki premium white rice)
*As mentioned earlier, there are substitutions galore. Feel free to use whatever type of soy or vinegar you like. The same goes for the meat and vegetables! When I was a poor college student, I'd throw in whatever I had without any issues. I encourage you to make it your own!
How to:
1. Marinate your chicken with the soy, pepper, vinegar, chicken stock, garlic, and lemon juice overnight -or at least three hours before cooking. I sometimes let mine marinate for up to three days for extra flavor!
2. Using a large pan with strong, tall sides (dutch oven or dip pan), turn to medium-high heat and then add the oil.
3. With a pair of tongs, gently lay your chicken into the pan. Be sure to save your marinade! We'll use that later. Brown your chicken for five-six minutes on each side. Remove and set aside chicken.
4. Drain off some of the excess fat from your pan (or keep it for another dish). Add in your onions to the pan and sauté on medium heat.
5. Pour your marinade from earlier into the pan over the onions. Lay chicken into the pan. Add in the bay leaves, onion, potatoes, and green peppers.
6. Cover and let simmer for ten to fifteen minutes, stirring occasionally.
7. Uncover for another twenty to thirty minutes. Continue to stir once in a while to make sure the ingredients stay submerged in the liquid for the most part.
8. It's ready when the potatoes are soft enough for a fork to go through and the meat is tender and falling off the bone.
9. Serve over a steaming bowl of rice.
I hope you like it! I enjoy cooking and experimenting with different ingredients, but it wasn't always so. I actually didn't learn to cook until I was twenty years old and had to fend for myself during my first teaching gig in China. Philippine Chicken adobo was one of the first recipes I picked up, and it's now one of my staples. The ease of this dish is wonderful. It's forgiving, always delicious, and (the best part) it makes even better leftovers!