A port city metropolis situated along the Bohai Sea in Northern China, Tianjin is China's largest coastal city and currently ranks fourth largest in urban population following Shanghai, Beijing, and Guangzhou. Meaning "heavenly ford" or "the place where the emperor crossed the river," Tianjin (天津 Tiānjīn) has historically been the maritime gateway to the nation's capital of Beijing. Because of its location, controlling Tianjin has been of crucial strategic importance in terms of the geopolitics of the area.
Tianjin's coveted location on the Bohai Sea made it a target for invading countries and subsequent national trauma. The Treaty of Tientsin (Tianjin), one of the "unequal treaties" signed at the end of the Second Opium War in June of 1860, gave rights to foreign powers to take control of Chinese territory and resources. It essentially forced open Chinese ports to foreign trade, which allowed the British to bring in prohibited Opium into the nation (especially addictive and harmful to the Chinese), and granted foreign missionaries the freedom to preach anywhere in China and to buy land to build churches.
The period following this agreement is one of immense shame in China, as it allowed colonial western powers (Great Britain, France, Japan, Germany, Russia, Austria-Hungary, Italy, Belgium, even the U.S. to an extent) to violently slice and divvy up the nation under their rule (much like the West did to Africa and the Middle East). From 1899 to 1901 Tianjin was the center of the Boxer Rebellion, a short-lived uprising by Chinese locals against colonial rule in support of the Qing government.
Today, Tianjin's history as a former colonial concession can still be seen in the surviving European architecture and monuments dedicated to this painful time in Chinese history, including churches and thousands of villas. It also supposedly boasts the highest number of Italian sculptures outside of Italy! In recent decades with the opening of China, Tianjin's economy has experienced massive growth. Its Yujiapu financial district was modeled after New York's Manhattan with its own Rockefeller Center and Twin Towers.
My First time in the city
I'm pretty ashamed to say that I used to not think much of Tianjin. For many years I had heard it referred to as the "arm-pit of China" and "Wanna-Be Beijing" by other expats, and I dismissed it for a while as just another industrial Shijiazhuang (where I'd lived in 2010).
After moving to Beijing last year, I was spontaneously invited by a colleague to go to Tianjin on a day trip as it turned out that the self-led bus tour she booked through was giving discounts for groups of three or more. I figured, why not? I don't know much about the area, and it would be cool to have another city in China added to my list. Now, I could kick myself for being so judgmental! I'm so glad I went with her on this trip, and I found myself wishing I had a few more days to spend here to fully explore the city.
Tianjin Eye
天津市河北区李公祠大街与五马路交叉口
Tiānjīn shì héběi qū lǐ gōng cí dàjiē yǔ wǔ mǎlù jiāochā kǒ
70 RMB PER ADULT, 28 MIN RIDE
Our first stop was to the Tianjin Eye on the Hai River, the only Ferris Wheel in the world to be situated on top of a bridge!
Unfortunately, we came on a particularly cold, blustery day, and the Tianjin Eye was closed due to bad weather. Yet, it was still pretty to look at and would probably be a fun ride view on a clearer day!
Tianjin Ancient Culture Street
古文化街,
Gǔwénhuà jiē, free entrance
From the Tianjin Eye, we walked over to the Ancient Culture Street, an area replicated to mimic life in the Qing Dynasty. It was a busy scene jam-packed with tourists and sellers. Many of the outdoor stalls sold kitchy trinkets and folk carvings. Fancier in-door shops had costumed attendants noisily advertising more expensive handicrafts, teas, and whitening lotions. I had a lot of fun just walking around people watching – oh, and eating the snacks!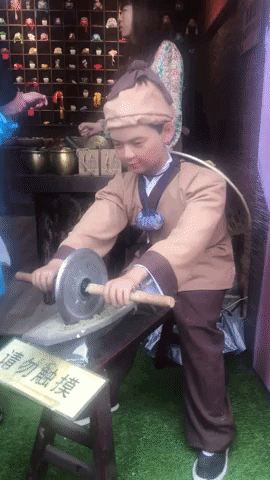 <– One traditional Chinese medicine shop even had a strange robot out front grinding herbs, to the fascination of everyone around.
There was also an interesting church along our walk back to the bus. I haven't been able to find its name or anything about the statues outside it, but the tanks nearby looked pretty neat.
Century Clock
世纪钟, shìjì zhōng, free
We glimpsed the clock from our bus as it circled the roundabout. It's a neat sculpture with a sun and moon on either side of a swinging pendulum.
Encircling the base of the clock are figures of the twelve zodiacs, each situated next to their corresponding numeral. It was built to ring in the new century with a bell that rang on January 1, 2020.
Italian Style Street
天津市河北区天津海河意式风情区光复道25号
Tiānjīn shì héběi qū tiānjīn hǎihé yì shì fēngqíng qū guāngfù dào 25 hào
Free Entrance
Located in the former Italian concession, this "Little Italy" touts European-style food and exports. We took our time meandering along the cobble stones, enjoying the change in atmosphere. This walking street is a nice little get-away if you're craving laid back western-ish ambiance. There were loads of little boutiques and beer gardens. We flipped through some of the menus, and most things were pretty pricey (it is a tourist area). Personally, I'd rather spend half the money eating at a local mom and pop shop, but my friend Emile was over the moon at finding a chocolatier selling homemade truffles.
There's even a square dedicated to Marco Polo, the man who brought back noodles from China to Italy in the 13th century and forever changed Italian cuisine!
Tianjin Porcelain House
瓷房子, Cí fángzi

, 35 rmb per adult
I found this private museum fascinating, albeit very crowded. At first glance, the building looks like a strange tourist trap, but it actually has a unique and tragic backstory. Made of bits of porcelain that were destroyed when the colonial powers overtook China, the entire grounds are the labor of locals who desperately wanted to preserve the pieces of the once priceless artifacts. These bits of ancient porcelain were gathered and created into an artform that sprawls over 4,000 square meters, encompassing a French style villa and its grounds. Be prepared for a wait if you come during a busy season.
Tianjin Binhai New Area Library
天津滨海新区图书馆, Tiānjīn bīnhǎi xīnqū túshū guǎn, 5 rmb
The last place I visited on this day trip was "The Eye," also known as the Tianjin Binhai Library, found within the Binhai Cultural Center. Advertised as "the best library in the world" and a "book-lover's dream," you would think this five-level library with its terraced bookshelves could hold all the books in the nation. Yet, its looks are largely misleading. While the overall design is beautiful and Instagram worthy, I was very disappointed to learn upon arriving that most of the books were fake!
In my research after visiting, I learned this is because the $1.2 billion Binhai Library was fast-tracked to completion. This means that, for the sake of opening sooner, a lot of the crucial construction aspects that would have allowed access to real books on higher shelves were nixed.
Sure, you can still walk around various side rooms, go up and down the steps, and go inside the empty "eye" in the middle of the room, but it feels less magical knowing there won't ever be real books in all the spaces. Online stated that visiting the library was supposed to be free, but when we came the guard at the entrance was having everyone pay five kuai to take cameras in. I also read these guards are known to hassle women who wear tank tops or other clothes they deem inappropriate, so be aware when planning your visit.
The rest of the Binhai Cultural Center had some really beautiful Art Deco-looking architecture!
Until Next Time! 直到下一次 (Zhídào xià yīcì)!
I am so happy I decided to visit Tianjin. Even though the weather was awful, I had a really fun time and wish I could have stayed longer. There's so much to see! This really goes to show that it's never good to rely on hearsay about places. I found that once you get past Tianjin's urban facade, there's so much to explore, especially regarding its multicultural history.
Moreover, while the random bus tour was fun, I realize I don't enjoy being limited on time by them. Having to follow the crowd and meet at designated times wasn't the best experience, as many people on the tour failed to get to the bus on time. Looking on a map, I notice that a lot of these places aren't too far from each other, and I think it'd be a better trip on your own if you're willing to brave the bus or metro!
A list of places I would love to see (if and when I make it back) are the Taku Fort, Tianjin Museum, Zhou Enlai Memorial, the Science and Technology Museum, Ho Yuanjia Former Residence, Drum Tower, the Binhai Aircraft Carrier Theme Park, and a few historic monasteries.
Like this story? Feel free to pin it!
Similar Posts